Zhuzhou Xinshuo New Advanced Materials Co.LTD,branded as SIEESO carbide factory, is a professional manufacturer of Cutting Tools and Carbide material. Since Sieeso started ,it has specialized in the Design and Manufacture of High-Quality Cutting Tools & Carbide material. Having more than thousands different kinds of items and huge stocks. Sieeso has a key product line for tools and material with advanced equipment and instruments.
50% of our products provide as OEM project for world-class cutting companies and 50% to do as our own brand. Our products have been sold to all-around the world, Such as Russian, Turkey, Europe, USA, Mexico, Vietnam, Thailand, India, Malaysia, and so on.

Wholesale Carbide Turning Inserts WNMG080408 Solid Carbide Turning inserts
The economical WNMG 080408 is a double sided 80° Trigon insert, with a 8mm cutting edge length and is approximately 4mm in thickness. The corner radius (04) is the most commonly used due to its versatility to provide a balance of both strength and excellent finishes.
---Models Introduction: WNMG080408/432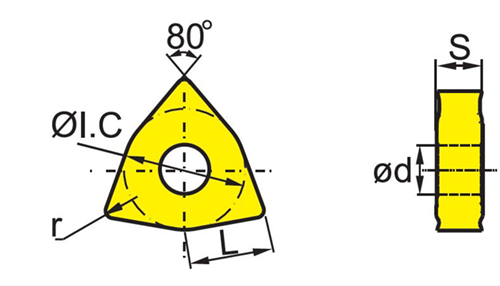 Dimension (inch): L=0.343, I.C.=0.500, S=0.187, d=0.203, r=0.031
---Various Coating:
---Advantages:
--Efficiently solved build up edge,work hardening and other machining problems
--Cutting edge inclination designation is good to control chip flow direction and obtains excellent surface quality
--sharp cutting edge, small cutting force
--good machining surface quality
--special chipbreaker design to keep cutting edge sharp and safe
--good anti impact resistance
--excellent tool life time
---Products Pictures

Factory Pictures:
Contact Us:
Zhuzhou Xinshuo New Advanced Materials Co.LTD
Factory ADD: NO 1 Plants,No 209 Huanghe South Road, Zhuzhou, Hunan, China, ZIP Code: 412007

Marketing Office:No 702,Jiuba Dijing City,Taishan West Road,Zhuzhou,Hunan, China, ZIP Code: 412007
Tel:+86-18675856108(Whastapp)
Fax:0731-22481019
Email:[email protected]
Wechat:alicewang0826