The economical WNMG 080408 is a double sided 80° Trigon insert, with a 8mm cutting edge length and is approximately 4mm in thickness. The corner radius (04) is the most commonly used due to its versatility to provide a balance of both strength and excellent finishes.
ISO Code: WNMG080408/432 DH1055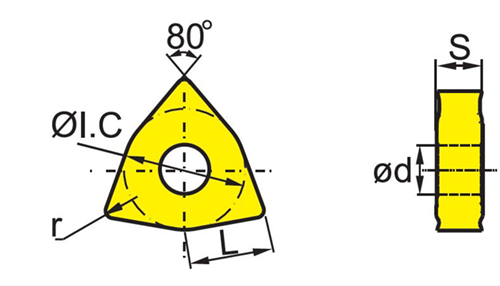 Dimension (inch): L=0.343, I.C.=0.500, S=0.187, d=0.203, r=0.031
Workpiece Material (ISO): Steels (P10-P35)
Application: This insert is recommended for general-purpose turning machining of steels.
Chip Breaker: Flat \Through Type
Coating:Thick TiCN + thick Al2O3 coating on carbide, a grade of Black Diamond Series For Steel Machining
Grade: DH1055
Comprising of thick TiCN and thick Al2O3 coatings, the grade has high capability against plastic deformation and good hardness of cutting edge. It is preferred grade for machining of steel from finishing to roughing. Under the same cutting conditions, the cutting speed can be increased by more than 25%, while the tool life can be 30% longer under the same cutting speed.
Note: Product sold in packs of 10 units.
Click here to WNMG main page.
Zhuzhou Sieeso Cemented Carbide Tools Co.,Ltd.
FACTORY: NO 1 Plants,No 209 Huanghe South Road, Zhuzhou, Hunan, China, ZIP Code: 412007

MARKERTTING OFFICE:No 702,Jiuba Dijing City,Taishan West Road,Zhuzhou,Hunan, China, ZIP Code: 412007
Tel:+86-731-22481009,Fax:0731-22481019
Email:info@sieeso.com