The economical SNMG 120404 is a double sided 90° Square insert, with a 12mm cutting edge length and is approximately 4mm in thickness. The corner radius (04) is the most commonly used due to its versatility to provide a balance of both strength and excellent finishes.
ISO Code: SNMG120404 /SNMG431 DH1025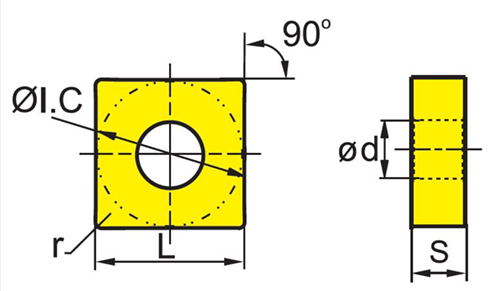 Dimension (inch): L=0.500, I.C.=0.500, S=0.187, d=0.203, r=0.016
Workpiece Material (ISO): Steels (P10-P30)
Application: This insert is recommended for general-purpose medium machining of steels.
Chip Breaker: DPMX
Recommended chipbreaker for semi-finishing P-kind materialsDouble-side chipbreaker with M-class tolerance has higher toughness on cutting edge than DLPM chipbreaker. It's suitable for semi-finishing under unfavorable conditions. Also good for machining cast iron with low cutting force.
Grade: DH1025
Coated carbide grade with special strength and toughness, in an optimal combination with MT-Ti(CN), thick layer AI2O3, and TiN coating. Suitable grade for wide application. It is recommended for the finishing, semi-finishing and light roughing of steel, cast steel and stainless steel.
Note: Product sold in packs of 10 units.
Click here to SNMG main page.
Zhuzhou Sieeso Cemented Carbide Tools Co.,Ltd.
FACTORY: NO 1 Plants,No 209 Huanghe South Road, Zhuzhou, Hunan, China, ZIP Code: 412007

MARKERTTING OFFICE:No 702,Jiuba Dijing City,Taishan West Road,Zhuzhou,Hunan, China, ZIP Code: 412007
Tel:+86-731-22481009,Fax:0731-22481019
Email:info@sieeso.com