1. Products Description
l Hardness: HRA 91.8-92.5
l Work piece: HRC45-50 HRC55-60 HRC65 HRC68
l Helix angle: 30°-45 °
l Diameter of cutting edge: 0.2-0.9 mm; 1-20 mm
l Diameter of rods: 4-20 mm
l Length: 50-100 mm
l Cutting Form: Flat, Square, Ball nose, Corner Radius, Taper Flute, etc
l Flutes No: 1-8
l Customized Available
Specifical of our carbide ball nose endmills: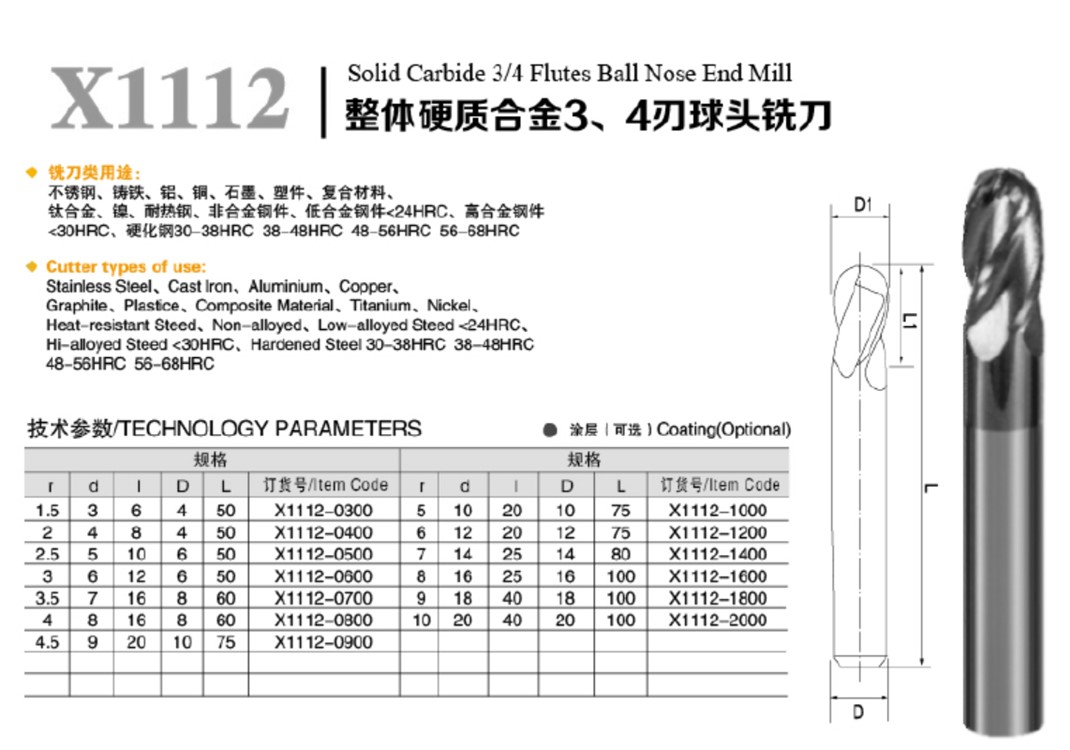 2.Super Raw Material
Item

HRC50

HRC55

HRC60

HRC65

Grade

YG10X

YL10.2 & WF25

Germany K44 &K40

Sandvik H10F

Details

Grain size 0.7um, Co10%,

Flexural strength

3320N/mm2

Grain size 0.6um,

Co10%, Flexural

strength 4000N/mm2

Grain size 0.5um, Co12%,

Flexural strength

4300N/mm2

Grain size 0.5um,

Co10%, Flexural

strength 4300N/mm2
3.Super Coating
Coating Classifying and Advantage

Item

Coating Type

AlTiN

TiAlN

TiSiN

NaNo

Characteristic

Hardness(HV)

3300

2800

4300

42(GPA)

Thickness(UM)

2.5-3

2.5-3

3

3

Oxidation Temp.(°C)

900

800

1000

1200

Friction

Coefficient

0.35

0.3

0.25

0.4

Color

Black

Dark Purple

Copper

Blue

Advantages

High heat stability

Normally

cutting

Suitable for heavy

cutting, and high

hardness cutting

For high precision

Cutting

Suitable for high

speed,

dry cutting

Suitable for cutting

mould steel, stainless

steel

Suitable for high

hardness

cutting, mould steel

processing

Most suitable for

carbide cutting tools,

turning insert





4.Our advantage:
1.Provide a high feed speed and improve the process efficiency.
2.Suitable for high hardness steel and can keep a long service life.
3. Material Solid carbide and whole forging processing make the turning tool with long service life, better wear-resistance, strength and rigidity, high working efficiency.
4. Unique surface treatment with good antiseptic property.
5. High seismic resistance performance, which can improve the surface finish degree of the workpiece.
6. Competitive price and fast delivery will save the time and cost.
5. Our Solid Carbide Endmills Plants&Euipments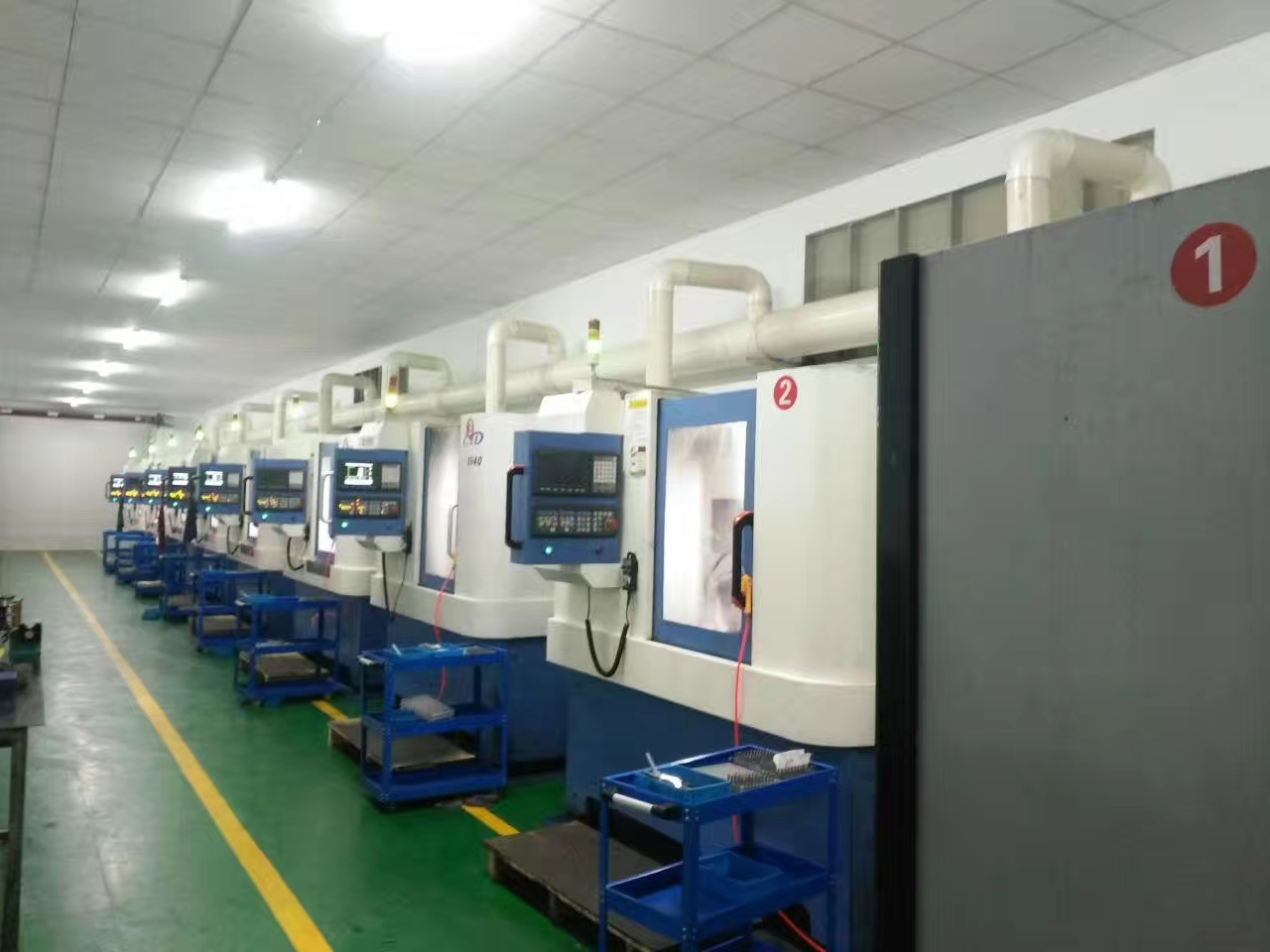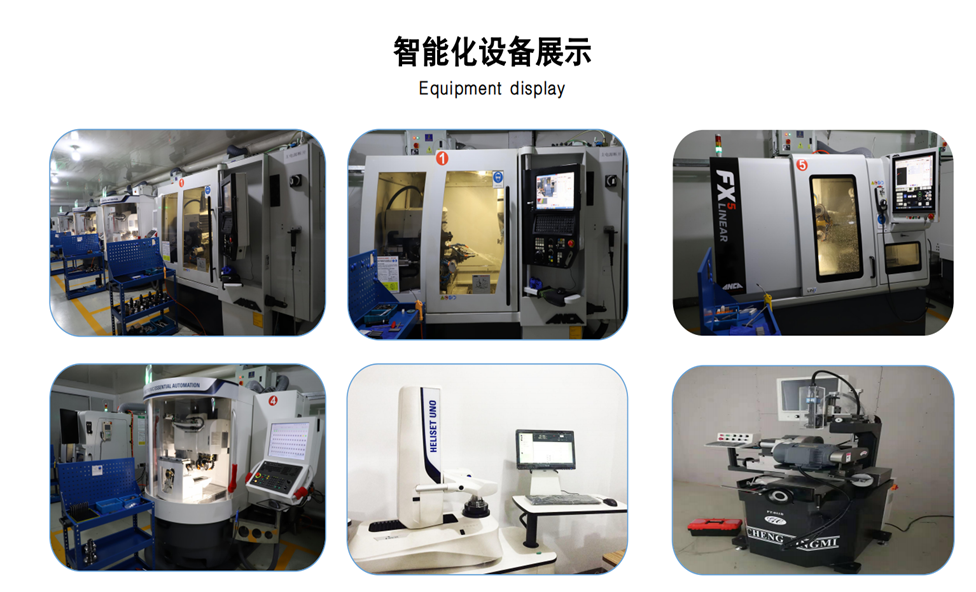 6 Our Package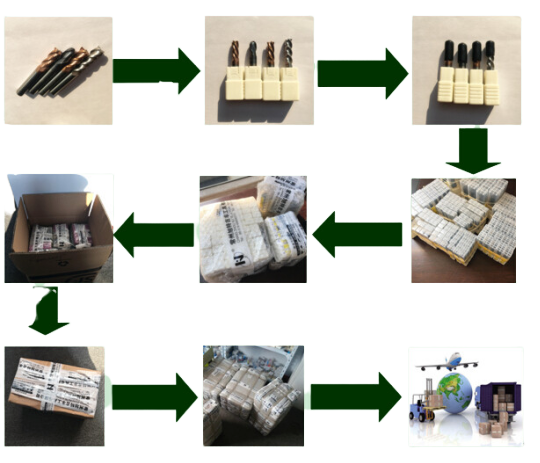 7 Shipping

8 Payment

9 Our Service
Pre-sale Service:
We have professional sales staff and application engineer; they can do the drawing confirmation and previous communication about the production and design of the tools based on your special requirements.
Sales Service:
Our professional sales staff will communicate and make reasonable production schedules based on your order requirements and delivery time. Meanwhile, sales staff can also know the status of orders anytime and communicate with you timely.
After-sale Service:
Our professional sales staff will make return visits regularly, to know all the situation you have encountered during the application of the ordered products and then feedback to company. At the same time, we will arrange the returning and changing of the products timely if they have possible quality problems.
Technical Support:
We have a number of veteran tooling design engineers, who can offer reasonable suggestions on the working procedure of your products, help you to improve the production efficiency. More importantly, we can design the products according to your requirements.
Zhuzhou Sieeso Cemented Carbide Tools Co.,Ltd.
FACTORY: NO 1 Plants,No 209 Huanghe South Road, Zhuzhou, Hunan, China, ZIP Code: 412007

MARKERTTING OFFICE:No 702,Jiuba Dijing City,Taishan West Road,Zhuzhou,Hunan, China, ZIP Code: 412007
Tel:+86-731-22481009,Fax:0731-22481019
Email:info@sieeso.com